Description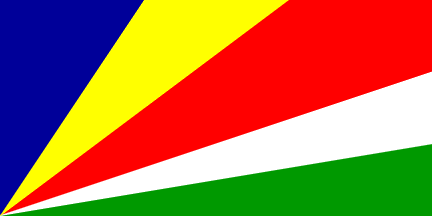 The Seychelles National flag of the third republic is made of five oblique bands of blue, yellow, red, white and green representing a young country moving in the new future.
The colour blue depicts the sky and the sea that surrounds us, yellow is for the sun which gives light and life, red symbolizes the people and its determination to work for the future in unity and love, whilst the white band represents social justice and harmony, the green depicts the land and the natural environment.
Seychelles provides an excellent business environment since the country serves not only well as an offshore jurisdiction but also as a regional business hub. Seychelles provides many advantages to businesses in the offshore sector due to its pro-active and stable government, modern business approach and modern reliable infrastructure as well being strategically situated.
Offshore Company Registration in Seychelles
No taxes of any sort for Seychelles IBC doing business out of the country
Lowest incorporation cost among other offshore jurisdictions
Suitable for multiple purposes: entrepreneurs, traders, e-commerce, SAAS, consultants, IP holding, etc.
High confidentiality of directors and shareholders' records
Absence of annual account submission and auditing requirements
One of the world's most stable socio-economic regions
Seychelles International Business Company (IBC) Features:
At least one director/one shareholder
Required local registered address
Required local registered agent
No minimum paid up capital
Bearer shares not permitted
Documents Required
Documents Required for the Creation of the Company
A certified copy of your passport (or identity card), as well as proof of domicile dated less than three months.*****
Accounting requirement
No accounting filing requirements.
However Section 174 (1) of the IBC Act, 2016 (Amended) requires the company to keep records and such documents (receipts, invoices etc.) as to enable it for accounts to be prepared
Company Type
International Business Company (IBC)
Confidentiality
Privacy is protected in the Seychelles under Art. 20 of the constitution.
Data detained by the Seychelles registered agents is not public information.
Governing corporate legislation
Financial Services Authority (FSA) is the governing authority and the companies are regulated under the IBC ACT 2016.
Information published relating to company officers
There is no public register of company officers.
Taxation
A Seychelles IBC is exempt from any form of taxation and withholding taxes in Seychelles.
Legislation
Modern offshore legislation modelled on BVI.
Taxation
A Seychelles IBC is exempt from any form of taxation and withholding taxes in Seychelles.
Standard currency
The Rupee is the official currency of Seychelles. Within the native Creole Seychellois (Seselwa) dialect, it's known the roupi. The Rupee uses the symbols SR, SCR, and SRe.
Time to form
Seychelles has a fast and efficient registry (name and incorporation/registration usually withing 5 working days.
Paid up capital requirement
No paid up capital requirement. The standard share capital is USD 100,000 but can be amended to fit your requirements.
Renewal Date
Anniversary date of the company / Each Year
Minimum directors/shareholders
Minimum of 1 director/shareholder.
Bearer shares
Bearer shares are not permitted.
Required documents:
Certified true copy of passports of all company members
Certified true copy of address proofs of all company members i.e. identity card, bank statement, driving license, utility bill
Business summary including services, sectors and major operating countries
***We also provide true copy certification service for your personal identity documents as per your need
Offshore Banking in Seychelles
With our assistance you will open a bank account in a bank in Seychelles.
Benefits of Banking in Seychelles in Our Partner-Bank
High-level confidentiality – bank secrecy in Seychelles is anchored to the law. There are statutory provisions in place, which may be overridden for exchange of information only under the DTC;
Full range of payment solutions – accounts in several currencies, Internet banking, international wire transfers, payment card, checkbooks, trade finance;
Low minimum balance requirements;
Full operative secure Internet banking facilities;
Companies and clients from any country, including newly formed companies from lot-tax jurisdictions and tax havens are welcome;
No personal visit to the bank in Seychelles is required to open a bank account;
Country Profile (Seychelles)
Official name: the Republic of Seychelles.
Geographical location: an archipelago nation of 115 islands in the Indian Ocean, about 1,500 km east of the mainland Africa, northeast of the island of Madagascar.
Capital: Victoria (on the island Mahe).
Time: UTC/GMT+4.
Language: English, French, Seychellois Creole.
Political status: sovereign state (independent from UK since 1976).
Legal system: pluralistic system -The substantive civil law is based on the French Civil Code. Otherwise the criminal law and court procedure are based on the English common law.
Currency: Seychellois Rupee (SCR), USD 1.00 = SCR 12.00 approx.
Member of: United Nations, International Monetary Fund and World Bank; maintains diplomatic missions in Belgium, France, Holy See, South Africa, People's Republic of China, India, New York (mission of United Nations). Russia, UK, France, India, People's Republic of China and Cuba maintain embassies in Victoria. Seychelles also have bilateral diplomatic relations with Malaysia and US.
Tax Treaties and exchange of information: DTC with Bahrain, Barbados, Belgium, Botswana, China, Cyprus, Indonesia, Kuwait, Malaysia, Mauritius, Monaco, Oman, Qatar, South Africa, Thailand, Vietnam, UAE, Zimbabwe; negotiating with Czech Republic, Egypt, Namibia, Russia, Tunisia. Local authorities are required to identify ultimate beneficial owners. There are statutory provisions in place, which may be overridden for exchange of information under the DTC, in all tax matters.
Banking Profile (Seychelles)
Bank services: personal and business accounts; current accounts and term deposits; international transfers; payment cards; cheque books; trade finance services.
Credit/debit card facilities: Visa Deferred Debit Card.
Currency of accounts: USD, GBP and EUR.
Internet banking: full Internet banking facilities, with enhanced three level security, allowing for 24/7 access and operation of your account from any place in the world.
Initial deposit requirement: US$ 100,000 for corporate accounts, US$ 50,000 for personal accounts.
Applications for banking from such business are considered on a case to case basis. Please always ask for pre-approval.
Account Opening Requirements (Seychelles)
Company documents:
notarized copies of standard company documents (certificate of registration, memorandum & articles of association, registers of directors and shareholders, certificate of good standing, power of attorney if applicable);
In case of bearer share certificates, as well as for corporate directors and shareholders, please ask us for exact requirements.
Personal documents:
notarized copy of ID (passport is preferable, or driving license, national identity card/document, armed forces identity card);
proof of address (either utility bill, or bank statement, credit card statement, bank reference letter, address confirmation from employer on employer letter head, lawyer or accountant, second identity document which contains address information, company search document, if it includes the residential address, official search document on social security information, where available);
proof and source of initial funds into the account (bank statement, or salary advice, or letter from employer);
All copies should be duly certified by a notary public, reputable bank, Consulate, Embassy, governmental body, lawyer, accountant, management company (where applicable), or other professional body, with the name, signature, and position of the certifier, and the company stamp.
All documents must be in English or French. A certified translator must translate documents in other languages.
Contact particulars of the translator and each certifier must be provided for later verification.
These documents are required from each authorized person, director and shareholder.
Personal visit to the Bank in Seychelles: not required; at your discretion.
Our Services – We Provide
Preliminary consultation on opening of accounts, bank services, fees and charges;
Assistance with preparation of the corporate and personal documents and application forms for account opening;
Obtaining a pre-approval from the bank on account opening, if required;
Introduction to the bank;
Guidance through the account opening process, mediation and communication with the bank until you and/or your company is assigned a bank account number.
To request pricing information or initiate the account opening process, please click on the below button, and we will send you all further information.