SA Company Formation (Non-Resident)
Register a PTY Company in South Africa (Non-Resident)
Quick, Easy Signup process
NON-RESIDENT PACKAGE



New Company (PTY LTD) Registration Package
R4,399.99
(Once-off fee)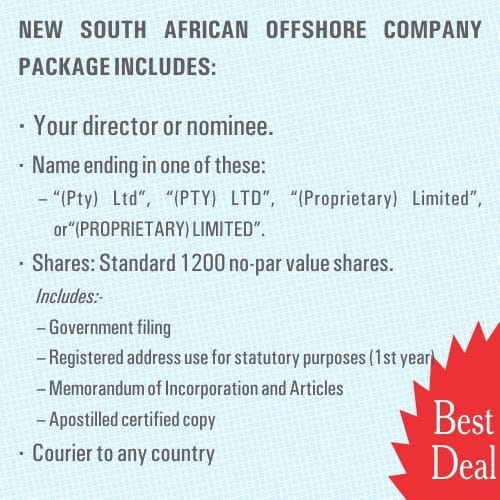 Company Formation and Business Services in South Africa (Non-Resident)
Private Limited Liability Company, managed by just one director and the directors do not need not be South African residents or nationals and one shareholder is required with the minimum capital of ZAR 1.
Branches of foreign companies are accorded legal status in South Africa by virtue of their registration as external companies but are not recognized as separate legal entities – except for exchange control purposes.
OVERVIEW:
South Africa, formally named as the Republic of South Africa, is a country placed at the Southern edge of Africa and with the neighboring countries of Namibia, Botswana and Zimbabwe. The South Africa today is one of the most sophisticated and promising emerging markets globally and it is the economic powerhouse of Africa.
One of the significant reasons for South Africa becoming one of the most popular trade and investment destinations in the world is due to the country guaranteeing that it can meet specific trade and investment requirements of prospective investors.
South Africa has a host of investment incentives and industrial financing interventions that are aimed at encouraging commercial activity and its trade rules favor a further expansion in the country's growing levels of international trade.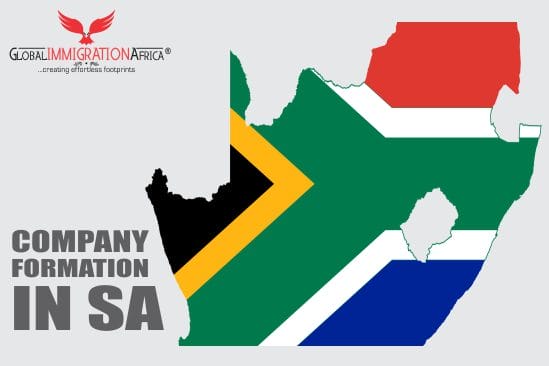 Starting a business in South Africa
5 things you need to know about starting a business in South Africa
1. Do you need a business visa?
2. How do you go about starting a business in South Africa?
3. Sending over international staff
4. Can foreign owned businesses repatriate profit abroad?
5. Setting up a business that is a service or outsourcing centre
Opening a South African Branch
There are number of important issues to consider for existing business, outside of South Africa, that wish to set up a South African Branch or commence local operations.
In the first instance decisions must be taken on the structure that should be used in order to do business.
Important factors that influence the decision making process are:
Ownership structure;
Legal structure;
Set up requirements;
Taxation;
Ongoing legal requirements (like audits);
Foreign exchange.
The business can be set up in the following ways:
Branch – External company;
Foreign-owned South African Company.
1. Branch of an Offshore Company – External Company
2. Local Branch South African Company Owned by an International Company (Full Subsidiary)
SOME OF THE ISSUES TO BE CONSIDERED:
Starting a Business as a foreigner in South Africa
Starting a business as a foreigner in South Africa can be an arduous task without enlisting professional help. There are a number of 'hoops' that must be circumvented and the process can be time consuming and a distraction from the all important task of establishing your business.
At GIA, we have assisted hundreds of entrepreneurs with their ambition to create a business in South Africa and are able to boast of an unrivalled track record of success, all based on what we believe to be the most comprehensive service available.
Below we detail the important aspects of starting a business as a foreigner in South Africa but if you prefer to talk to a human being to discuss your needs, feel free to call us.
Where to begin with starting a business as a foreigner in South Africa
Must there be local ownership?
Can I buy into or outright an existing business?
Is there a minimum shareholding a foreigner must own?
Is there a minimum amount of investment required?
Can my partner or children work in the business?
Must I employ South Africans?
Can I apply for permanent residency?
What sort of company must I set up?
I am in a permanent relationship / married to a South African – do I need a business visa?
If I am not working in the business, just investing, do I need a business visa?
How do I prove my business concept and my credentials?
Would my business need to be audited?
Can I set up an NGO in South Africa as a foreigner?
How long does the application process take?
Is there any other important distinctions?
How can Intergate Immigration help me?
Information on recruiting foreign staff in South Africa
The need to employ foreign staff is a common occurrence in South Africa as employers seek to bridge the skill shortage gap that exists in the labour market.
For many employers the prospect of employing foreign staff can seem onerous when judged with the multiple visa options and red tape that surrounds visa applications.
GIA is one of the only companies in South Africa that offers companies a dedicated corporate department that specialises in furnishing innovative, efficient and cost effective solutions for your companies visa and permit needs.
Welcome to Global Immigration Africa
Consider the following benefits:
GIA Visa Solutions for Corporates
Welcome to Global Immigration Africa
Whilst most immigration companies boast of an ability to provide corporate solutions few back it up with dedicated resources and expertise.
More often than not the same client managers and administration staff are left to deal with individual clients as well as corporates – both are equally important to GIA but we realise their need base is very different.
Consider the following benefits:
Dedicated client and account managers whose knowledge base is focused on corporates solutions
A dedicated administration team providing efficient and standard driven communication and feedback
A state of the art purpose built client management system providing 'live' feedback and case up dates
Its no wonder GIA are favoured by in excess of 150 companies in South Africa as well as being the preferred contractor to 3 of the top 5 relocation companies worldwide.
We offer a full range of visas and can submit applications not just throughout South Africa but worldwide.
GIA Visa Solutions for Corporates
Corporate visa – for employees with a need to hire in excess of 5 individuals or renew 5 visa in the next 5 years
Critical Skills Work Visa
– If the employee you intend to recruit matches a position on the the critical skills list, you may consider the critical skills work visa critical skills work.
Intra- company transfer – for employers relocating staff from abroad to their South Africa operations
General work visa – for employees who have adhoc needs to recruit foreign skills in the event local talent cannot be secured
Business visa – for short term foreign employees that are required that will not be remunerated in South Africa.
If you employ or are thinking of employing foreign staff, GIA will provide you with the advice and service you need.
HOW CAN WE ASSIST FURTHER?
We do all paperwork on forming the company in South Africa
Formation is completely remote
Can act as Secretary or Treasury
Provide nominee Directors/Shareholders
Assist with opening a bank account
Registration for Taxes, VAT
Develop a website for your business
Create a logo of your brand
HOW CAN WE ASSIST FURTHER?
Provide with full company administration services
Arrange a mailing address for your business
Arrange a virtual office for your company
Telephone answering service
Book keeping, audit & reporting
Preparing and submitting VAT return
Dealing with local authority
Trademark registration